Industry
Founded in 1969, Mette, Evans & Woodside has a long standing tradition of providing comprehensive legal representation to businesses and individuals. The firm's practice extends throughout Pennsylvania and into neighboring states. The hallmark of Mette, Evans & Woodside is their ability to draw from the resources of allied practice areas to give clients the exact blend of legal counsel required for their unique situation.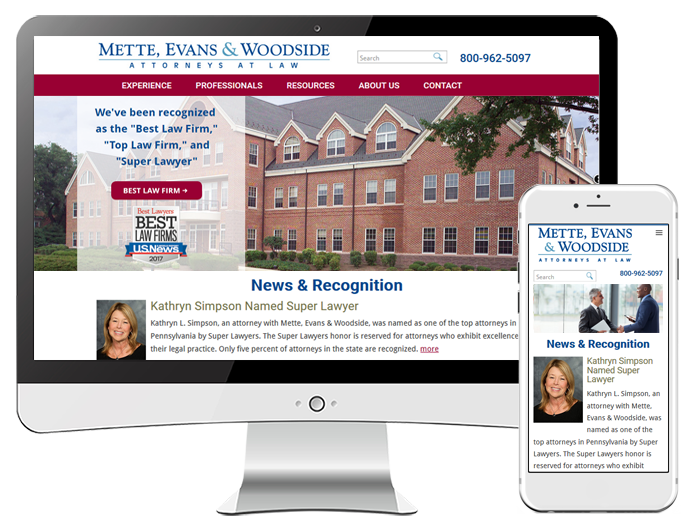 Marketing Challenge
Mette, Evans & Woodside's marketing communications challenge was to find a way to convey to prospective clients the wide spectrum of legal issues the firm could assist them with. They tapped AdAbility Marketing Communications to help them develop an integrated communications program that would increase awareness of the varied practice areas and differentiate the firm from the competition.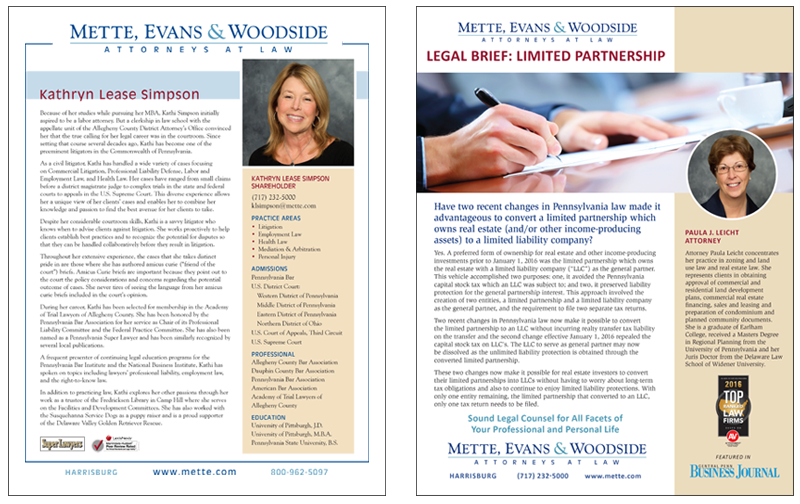 Marketing Strategy
COHESIVE BRAND DEVELOPMENT
AdAbility refined Mette, Evans & Woodside's brand identity and unified their marketing materials. They started with refreshing the firm's logo, letterhead and marketing collateral. Collaborating with the firm's marketing committee, AdAbility then implemented advertising efforts to raise awareness and promote the attorneys' legal expertise. A mix of traditional print and broadcast media, along with digital advertising was created to reinforce the firm's brand.
Adding a social media presence through Facebook, LinkedIn, and YouTube was the next step in creating online networking with other professionals and clients. The social media profiles helped distribute the firm's educational information and also gave them an outlet to share news about events and activities happening within the firm.
Client education and outreach continued with the creation of a firm-wide Enewsletter to educate clients on news and legal changes including information related to all practice areas. This helped Mette, Evans & Woodside promote the firm as a whole.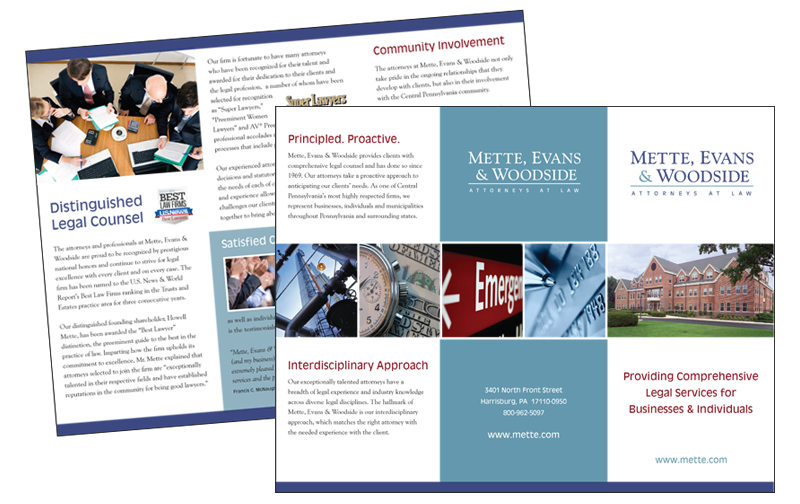 PAY-PER-CLICK ADVERTISING
Research shows that the majority of prospective clients do research for legal services online. AdAbility created a Google Adwords pay-per-click campaign to direct search traffic to the firm's website. A unique landing page to promote different legal areas of expertise was programmed for each pay-per-click ad. Additionally, PPC campaigns were added to the firm's Facebook and LinkedIn strategies to provide more aggressive page growth and promote interaction.

PUBLIC RELATIONS
With updates made to their branding materials and new campaigns created in both digital and traditional marketing avenues, AdAbility Marketing Communication's next recommendation was to reach out to the public. Raising awareness for the law firm was done through community sponsorships with the Central Pennsylvania Food Bank, the Ned Smith Center, the Retired Senior Veterans of Pennsylvania and others. The firm also partnered with the Fredricksen Library in Camp Hill, PA to offer educational talks for consumers. Mette, Evans & Woodside also hosts regular Breakfast Brief presentations, which focus on legal topics for business owners.