Crowdsourcing Engages Consumers With Brands
Monopoly Crowdsources To Select New Game Tokens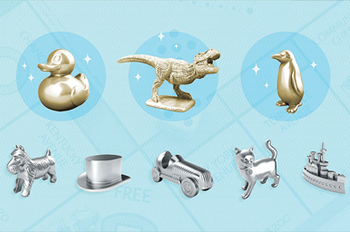 If you're a fan of the game Monopoly, then you'll soon discover that new versions of the game look a little bit different. In March 2017, Hasbro, the maker of the popular board game announced the results of their recent crowdsourcing campaign, which polled consumers in 100 countries to choose which Monopoly tokens should be retired and what they should be replaced with when the next edition of the game debuts in the fall.
Monopoly's crowdsourcing campaign started in January 2017 and asked fans to choose the next tokens from a list of 64 options. Astonishingly, over 4.3 million votes were cast. During the campaign groups tried to sway the voting by advocating for or against certain tokens. Zipcar advocated for the survival of the racecar token by asking fans to #SaveTheCar. The New England Aquarium tweeted photographs of their penguins with the hashtag #VotePenguin.
After tallying all the votes, Monopoly will be bidding farewell to three tokens which had been staples of the game debuted in the 1930's. Gone are the boot, the wheelbarrow and the thimble. They will be replaced with a Tyrannosaurus rex, a rubber ducky and a penguin.
Crowdsourcing is not a new marketing tool but through the growth of the internet and social media, it has become even more commonplace. Giving consumers a say in a brand's direction gives them a stronger sense of ownership and a stronger connection. Crowdsourcing isn't easy and companies need to be aware of potential pitfalls before they jump in.
A number of companies had great success with crowdsourcing campaigns. Doritos, Starbucks and AirBnB are just a few brands who have been successful with opening up marketing input to consumers.
Since 2012, Lays Potato Chips has done a "Do Us A Flavor" yearly campaign. Fans of Lays Chips are asked to suggest a new flavor and design a bag to match. The top three flavors are then produced and sold so consumers can sample the new flavors and vote on their favorite.
Each of these crowdsourcing campaigns not only brings in fresh ideas to large companies but they are great marketing tools. It builds excitement around a brand, gets their fans involved in new products and keeps everyone talking for months after the campaign ends. With all of the social tools available now, more and more brands will continue to jump on board the crowdsourcing train.