Advertising Expertise
AdAbility's team has three decades of experience under our belt. When you spend that amount of time, consumed with creating compelling work, you develop not just expertise, but an essential understanding of what works. Our marketing communications work is built around a proven process that yields results for clients in all types of industries.
Proven Work Process That Yields Results

EXAMINE & REDISCOVER
The initial phase of our process is not only about asking "why," we also uncover the "what." We move beyond ingrained answers to dig for the insights that sustain core positioning that will wither the competition.

EXECUTE & LAUNCH
Plan the work. Work the plan. Whether the plan calls for the latest interactive marketing, traditional advertising or a mix, we implement in full detail a comprehensive campaign to yield results related to the defined goals.

FOCUS & CREATE
The strategy, born from the discovery phase of our process, sets the direction. Focus brings the framework to the process of aligning solutions with creative expression that will generate results.

ASSESS & REFINE
There's no coasting in business. Taking action always trumps simply reacting. The key to staying relevant in the market is constantly assessing how well goals were met and making refinements to improve the outcome.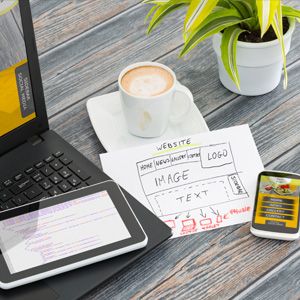 Creative Business Solutions
At AdAbility our creative solutions to business problems are born out of an innate curiosity about how things work and why people act or react the way they do. Our obsession with gaining a true understanding leads to late nights…constantly scribbling ideas on the back of store receipts… and spending time at a charity race wondering why one shoe brand is so dominant, instead of cheering on the runners like everyone else.
Thomas Edison said, "Genius is one percent inspiration, ninety nine percent perspiration." We've got the inspiration – plenty of it. We also put in the perspiration to create effective marketing communications.