Healthcare Screening Racy Slogans Raise Awareness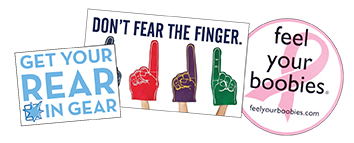 Get Your Rear In Gear. Don't Fear The Finger. Feel Your Boobies. No, we're not repeating phrases heard on the playground. These are all campaign slogans used by non-profits to shake up public awareness about healthcare screenings. The trend toward racy slogans is increasing as healthcare non-profits struggle to get younger consumers to wake up to their messages.
The Pennsylvania Prostate Cancer Coalition wanted an eye-catching way to encourage men to talk to their doctors about prostate cancer screening and so the "Don't Fear The Finger" campaign was born. "The finger" is a reference to how men are examined by their physician to screen for prostate cancer. The Coalition featured the "Don't Fear the Finger" slogan on 2-foot-tall foam cutouts of a hand with the index finger extended, city bus posters and other media.
The Colon Cancer Coalition organization's signature "Get Your Rear in Gear" is an effort to make the public feel more comfortable discussing colon cancer and overcome fear. The non-profit organization is dedicated to raising awareness and encouraging screening for colon cancer.
"Feel Your Boobies" was created as a "friendly, maybe even provocative, approach to promoting proactive breast health." The group was launched after its founder, who was diagnosed with breast cancer at 33, realized that she never really paid much attention to more traditional breast cancer messages. Feel Your Boobies targets women under 40 and uses media and other unexpected & unconventional methods to promote proactive breast.