Video: The King Of Content Marketing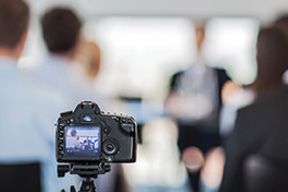 When planning your marketing strategy, one of the most important things to keep in mind is that content is king. Businesses who successfully market themselves are creating strong and compelling content. Avoid the trap of only thinking of content marketing is only lengthy articles or blogs. Technology and social media have redefined what content is. Currently, the content that is generating the most viewer engagement is video.
Video has become the single most important content marketing strategy. Each of the major social media platforms have seen a shift toward highlighting video posts. The top of the social media food chain, Facebook, has explicitly said that their algorithm, which determines which posts are seen, ranks video posts higher and their introduction of live video has completely altered the users experience on the site. It should be noted though that Facebook's video statistics for the past two years have been significantly inflated due to a recently found calculation error on Facebook's part. Regardless of this error, there is still significant proof across all social media channels that video has taken over as the most viewed content.
Twitter and Instagram both now offer video posts instead of only links and pictures. Twitter even offering the ability for you to direct message another user with a video instead of a normal text message making Twitter even more "social" than it already was. Their video posts allow you just over 2 minutes of video instead of having to limit yourself to a 140 character post. This means you to get a lot more information out there to your followers.
The newest social media player is Snap (formerly known as Snapchat). Snap has revolutionized social media by introducing a sense of urgency into their platform. Their videos and images only last for a maximum of 24 hours before they are gone. With their daily views in the billions, Snap has solidified their place in the social media jungle and is offering marketers a new and innovative way to get their message to customers.
Lastly, YouTube, the original video platform, remains the top library of video content with 300 hours of video content being added every minute. It has stiff competition in the rest of the social media options but that is because they proved a long time ago that video is where the future of marketing lies.
Adding Video To Your Marketing Plan
Luckily, technology has advanced to the point where expensive video cameras are no longer necessary to shoot great video. As long as you have a camera on your phone, you are set. The use of video in social media has also changed people's idea of what a good video needs. It's no longer necessary to plan out a script, perfect the lighting, or make sure makeup and wardrobe is perfect. Creating a video that makes people feel like you are speaking directly to them and making them a part of your business is far more important. Videos can be a 3 minute interview, a 30 second product introduction, or you sitting down for 20 minutes educating your audience on a topic specific to your business. The important thing is to make sure you include video in your marketing plan.